NEB-17


RECENT DEVELOPMENTS IN GRAVITY

September 19-22, 2016
MYKONOS, GREECE
Venue

The venue of the conference is the Saint John Resort in the Agios Ioannis area of Mykonos.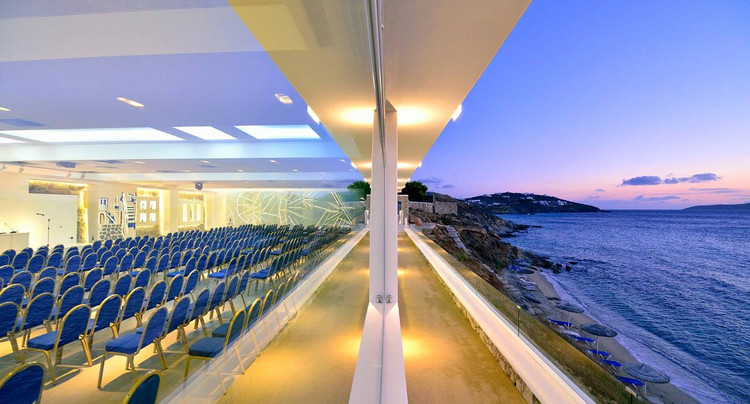 Mykonos
Mykonos is one of the most beautiful and well-known islands of Greece. The island is in the central Cyclades and attracts a large number of tourists from all over the world due to its beaches, the Greek sun and cuisine, as well as due the hospitality of local people. The nearby small island of Delos, the sacred island of ancient Greece, is an important archeological site that has been named an UNESCO World Heritage site.

Travel
Mykonos international airport (JMK) has direct connections to Europe or connections through Athens Internationl Airport.
From the Athens area, one can also reach Mykonos by ferry, either from Rafina port (check timetable). The Rafina port is near the airport and can easily be reached by bus (check timetable). One can also take a ferry from Piraeus port (check timetable), which one can reach with the Athens Metro (take line 3 from the airport and change to line 1 at Monastiraki).

Local Transportation
There is a public bus between the area of Agios Ioannis and nearby Mykonos town (4.5km from the venu, which is 10 min by bus or car). You can check here for the bus route to Agios Ioannis (Ai Giannis) and here for the timetable during summer. Rental cars can easily be arranged through all maior car rental companies. Taxis are in high demand during the tourist season and thus difficult to get.

Suggestions
Apart from the dining opportunities at Saint John at other hotels, there are plenty of various lunch/dinner opportunities in Mykonos town.

A bakery and mini markets are near the kite beach (about 1.2km or 15 min walking, which is also along the bus route) .